Dr. Emiliano T. Hudtohan
 Journal of Business, Education and Law (BEL), 20(1). SY 2015-2018  ISSN 0117-6455
Jose Rizal University, Shaw Boulevard, Mandaluyong City, Metro Manila
Introduction
This paper makes use of Taleb's antifragility concept as a theoretical lens in viewing corporate social responsibility (CSR). In business, philanthropic CSR falls as a fragile execution of social responsibility; corporations sharing their core values with the community may be considered a robust practice of CSR, and corporations initiating community-based projects can be classified as antifragile CSR from the point of view of the project beneficiaries.
Objectives
This commentary primarily aims to provide academicians who are steeped in linear statistics an additional perspective on randomness based on chaos theory. This is a chance to understand Taleb's  antifragility. Secondly, it offers business management practitioners an insight into change that creates problems in the normal course of an enterprise that has stabilized and has achieved equilibrium in its operations. Thirdly, Taleb's triad, composed of fragility, robustness and antifragility, is used as theoretical lens on a CSR triad, consisting of philanthropic CSR, corporate shared values (CSV) and corporate social initiatives (CSI). Fourthly, it presents Taleb's concept and visual of concavity and convexity in viewing corporate social responsibility.
Methodology
Taleb's narrative style tin explaining what is fragile, robust, and antifragile. The arguments in his book, Antifragility, are mini cases he presents based on his experience as an investment trader, which is heuristic in approach (Moustakas, 1985; Pillans, 2014).
As such, I follow his methodology of narrating my personal observations by telling my own story by using his antifragility concepts on the various aspects of corporate social responsibility as practiced by the business sector today. My narration and storytelling provide reflections on antifragility, chaos theory, and CSR practices.  From these reflections, this commentary also provides opportunity for further action through research.  Recommendations for further studies are cited at the end of the commentary.
 Fragility and Antifragility
Fragile vs. Antifragile
Merriam-Webster defines fragile as "easily broken or destroyed" and "constitutionally delicate and lacking in vigor."Dictionary.com defines it as "easily broken, shattered, or damaged, delicate, brittle; frail, vulnerably delicate, lacking in substance or force, and flimsy."
Robust is defined in Merriam-Webster Dictionary as "strong and healthy, strongly formed or built, successful or impressive and not likely to fail or weaken.   Dictionary.com says it is "strongly or stoutly built: suited to or requiring bodily strength or endurance; rich and full-bodied; and strong and effective in all or most situations and conditions"
Taleb does not define the opposite of fragile as robust; he creates an oxymoron by presenting a non-existing word in the dictionary: antifragile.  To prove his point, he lists 58 examples of "fragile-robust-antifragile" triads that we normally experience in our daily life.  His triads are presentations of heuristic, experiential data and he admitted he was not into creating a theory or generalization.  But the insights he makes are certainly mind-boggling and one is led to nod his head and agree to many of these triads.  I recognized 16 triads as an axiologist, ethicist and values formateur.  I somehow got a feel on what antifragile is.
For Taleb the opposite of fragility is beyond being robust and resilient; the opposite is antifragility. He looks at antifragility as a property of systems that increase in capability, resilience, or robustness as a result of stressors, shocks, volatility, noise, mistakes, faults, attacks, or failures. Simply, antifragility is defined as a convex response to a stressor or source of harm, which leads to a positive sensitivity to increase in volatility in term of variability, stress, dispersion of outcomes, or uncertainty. He grouped factors under the designation "disorder cluster".  He defines fragility as a concave sensitivity to stressors, leading a negative sensitivity to increase in volatility. According to him the relationship between fragility, convexity, and sensitivity to concavity and disorder is mathematical, obtained by theorem, not derived from empirical data mining or some historical narrative. (Taleb, 2012).
On the other hand, the Eastern approach to resiliency is to discipline the mind to calm, non-combative attitudes in all conditions.  At the spiritual core, "Everything is already inside" for Tamura believes that you are the answer.  He says, "To be who we are, to have all that is within us and to fully express our divine heritage – that is our purpose for living and the destination of our journey.."(Tamura, 2007, p.5). Seale (2003) remarks, "The more you know who you are and the more you live that true identity, the stronger and clearer are your perceptions and sense of reality, and the less you are swayed by forces that go against your nature.  You have the power to make your own choice and to create your life as you want it to be."(Seale, 2003, p.5).  Tamura and Seale affirm need to be resilient and therefore one comes out robust, but not antifragile in Taleb's terms.
Taleb (2012, p.3) introduces antifragility as "some things benefit from shocks; they thrive and grow when exposed to volatility, randomness, disorder, and stressors and love adventure, risk, and uncertainty. Yet, in spite of the ubiquity of the phenomenon, there is no word for the exact opposite of fragile. Let us call it antifragile. Antifragility is beyond resilience or robustness. The resilient resists shocks and stays the same; the antifragile gets better."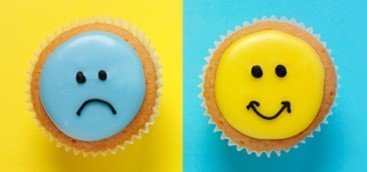 Figure 1. Taleb's visual of concave: frown and convex: smile (www.emaze.com)
Taleb (2012, p. 271-272) discusses convexity and concavity. He cleverly uses the smile button illustrating what is convex and frown button as concave.  His visuals are easily recalled when compared to a geometric and mathematical representation of convex and concave in Figure 2.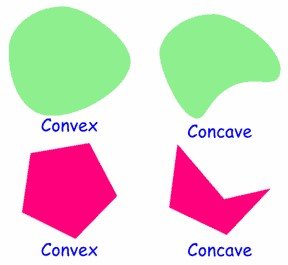 Figure 2.  Geometric visual of convex and concave images (www.mathsisfun.com)
Visually, it appears that concave fragility assumes that the impact of a stressor is inwardly absorbed and the individual needs to fortify himself by being robust.  It is a defensive reaction against stress by being able to arrest the negative impact.  The self is protected from further collapse by being robust.